Not sure why it looks like I have a milk mustache, I am assuming it is the lighting :) But here I am this morning enjoying a cup of wonderfulness!!!!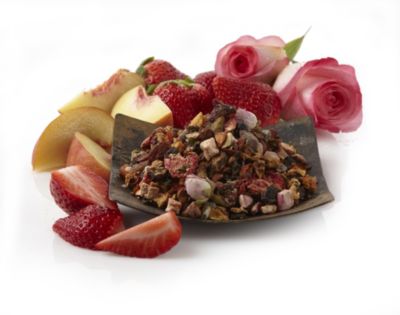 Robin sent me some tea this morning. I have had Peach Tranquility by itself and I did not like it. But, mixed with this Strawberry Rose Champagne Tea it was AWESOME!! I had three cups this morning. It is fruity and smooth, I loved it!!!
Strawberry Rose Champagne/Peach Tranquility Tea Blend
Price reflects 4oz (25-30 teaspoons per 2oz)
$18.80
Description
Harmony is embodied in this sophisticated oolong tea and herbal blend. Sparkling Strawberry Rose Champagne is complemented by dreamy Peach Tranquility for a fruity and floral duo, delicious in every way. A très bien relaxing treat!

Sweet strawberry and peach balanced with the taste of crisp Champagne, citrus, and soft rose
Look at all the goodies in this tea!!
Beautiful color, and I wish you could smell it! The aroma was incredible! I would say this was a huge hit with me!!!!!